On Wednesday, during Janet Yellen's testimony before the House Financial Services panel, one message, in particular, stood out to the audience – and it wasn't exactly the message the Fed chair was trying to get across. While Yellen was speaking to the audience about interest rates, one opportunistic bitcoin fan took it upon himself to smile at the camera and hold up a sign that read "Buy Bitcoin".
As the old saying goes, desperate times call for desperate measures. Bitcoin ($BTCUSD), the innovative payment network, has been getting destroyed lately. Actually, as most investors are aware, the entire cryptocurrency market has been getting obliterated over the course of the past month.
With that being said, bitcoin is still in the middle of an extraordinary bull market, as one can see by looking at the chart of past year: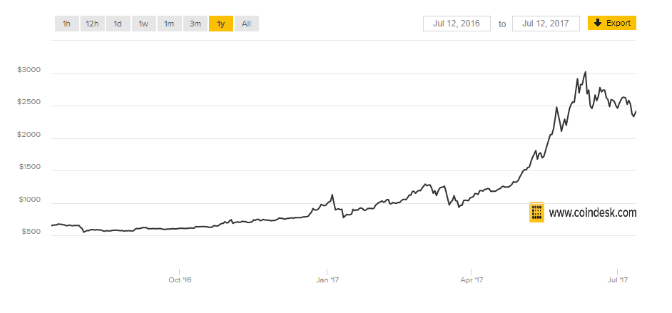 One potential way for bitcoin to get back on the right path might be the Fed obeying the sign-holder's wishes. As a matter of fact, according to a Wall Street Strategist, if central banks were to get on board with bitcoin, this could help move the cryptocurrency to $55,000 within a five year time frame. Of course, that push is still years away. But who knows, maybe the sign helped. At the time, bitcoin increased 3%, but it fell back a bit on Thursday's trading session.
However, as for the sign holder, he turned a nice profit either way. After the young man, who referred to himself as '#BitcoinSignGuy', posted a picture of his bitcoin address on Twitter, he reportedly received donations of more than $10,000 worth of bitcoin.
Featured Image: twitter